SYARAT DAN KETENTUAN
I. DEFINITION OF TERMS
The words, terms and expressions herein shall have the following meaning.
"I", "Me", "My", "Mine", "Buyer", and/or "Applicant" means and / or the person authorizing the straight purchase and/or application for deferred payment for the items through the Akulaku platform;
"SLC" means Streetcorner Lending Corp. a duly registered corporation with the SEC and doing business under the name and style of Akulaku;
"Due Date" means the date stated in the Akulaku application for monthly repayments and other sums due and payable by the Applicant to AKULAKU and, if applicable, includes payment of arrears in monthly repayments and/ or such other sums in arrears by the Applicant;
"Products" refers to the tangible items purcahsed by the Applicant or Buyer on installment from Akulaku;
"Services" refers to the Loading Service, Cash Loan Services and other services availed by the Applicant or Buyer on installment from Akulaku;
"Term" refers to the number of day/s that the Product/s or Service/s is payable;
"Monthly Repayment" means the amount specified in "My Bill" which payment is payable monthly on the Due Date stated in "My Bill" subject to the terms and conditions herein;
"Akulaku App" means the mobile application powered by SLC on which the Buyer or Applicant can register, apply and purchase products or avail services on installment
II. CUSTOMER ELIGIBILTY AND VERIFICATION
This Facility is available to all eligible Customers aged between 18 years old of age to 55 years old of age.
By applying, I allow call and field verification to be conducted by SLC or its authorized representatives based on the information I will provide such as emergency contact information, residence information, place of business and/or employment.
I will only be eligible for 1 user ID in the Akulaku Platform, I acknowledge that any additional User ID or User ID application identified will be subject for rejection or deletion by SLC without prior notice.
III.MY OBLIGATIONS
a.I mustregister and create a User Account by selecting a password and providing my name and other information. I am responsible for all activities that occur under my User Account. I agree to notify SLC immediately of any unauthorized use of my User Account or any breach of security with respect to my User Account. SLC will not be liable for any loss that I may incur as a result of someone else using my User Account, either with or without my knowledge. In addition, I may be held liable for any losses incurred by SLC or another party due to someone else using my User Account. Therefore, I will choose a password that is hard to guess such as one that consists of letters, numbers and symbols. SLC takes no responsibility for my failure to comply with the obligations in this paragraph.
b. I will not:
i. Intercept or monitor, damage or modify any communication which is not intended for me;
ii. use any type of spider, virus, worm, trojan-horse or any other codes or instructions that are designed to distort, delete, damage, emulate or disassemble the Service;
iii. send unsolicited communications (also referred to as "SPAM", "SPIM" or "SPIT") or any communication not permitted by applicable law or use the Service for the purposes of phishing or pharming or impersonating or misrepresenting affiliation with another person or entity;
iv. Expose any third party to material which is offensive, harmful to minors, indecent or otherwise objectionable in any way;
v. Use the Service to cause or intend to cause embarrassment or distress to, or to threaten, harass or invade the privacy of, any third party;
vi. Use (including as part of my name and/or profile picture) any material or content that is subject to any third-party proprietary rights, unless I have permission from the owner of such rights;
vii. Collect or harvest any personally identifiable information, including account names, from the Service; or
viii. Impact or attempt to impact the availability of the Service, with a denial of service (DOS) or distributed denial of service (DDoS) attack.
c.I am obliged to pay such necessary services fees of my availed products and/or services and as declared as follows:
i.Product/s or Item/s
– Delivery Fees (Varies depending on the size, weight and distance of delivery)
ii.Cash Loans
– Processing Fee (Php 50.00, across any amount), includes the approval fee and bank transfer fee
– Interest (5%)
IV. FACILITY
a. PAYMENT DUE DATE OF MONTHLY INSTALLMENTS
Each Monthly Repayment shall be made on or before the Due Date. The first monthly payment will be paid based on the schedule provided in the Payment Schedule as displayed in the Akulaku platform.
b. PREPAYMENT
I may prepay the Outstanding Balance in full or prepay more than the monthly payment due before payment due dates at any time without premium or penalty. All prepayments shall first be applied to any outstanding late installment amounts due, then to any late payment fees or in due and thereafter to the Outstanding Balance.
c. LATE PAYMENT FEE
• Item/s or Produts/s Purchased
– Overdue payment charges shall apply if the installment amount/s due are unpaid on due date. Late fee will be 10% of total past due amount.
• Cash Loans
– Overdue payment charges shall apply if the total payable amount/s are unpaid on due date. Overdue payment charges will be 1% of the total past due and is compounded DAILY
Any such prepayment that exceeds monthly repayment or any prepayment in parts shall be deemed to be advance payment. Such amounts of advance payment if sufficient to cover the monthly prepayment(s) will extend the schedule Due Date (Monthly Due Date) to a later date.
V. COLLECTION OF PAYMENT
In the event of delay or failure on my part to settle payment for the loan facility that I obtained, I hereby acknowledge and authorize AKULAKU , through its Collection Department, to contact me personally or through a third party using all pertinent and necessary information concerning me such as but not limited to personal information, social media accounts, phone numbers, photos, available information from government agencies as a matter of public record, and any other incidental information that AKULAKU and its system may have acquired in the course of verification of my application for loan facility and I agree to pay all reasonable legal fees, collection and enforcement charges to the extent permissible by law, in addition to other amounts due.
VI. PRODUCT and SERVICE DELIVERY
• Item/s or Product/s Purchased
– All items will be shipped and delivered once confirmation of payment is done. Items will be delivered by either Akulaku's delivery personnel or Akulaku's authorized logistics partner
• Cash Loans
– All availed Cash Loans will be released to the Borrower thru bank transfer to the Borrower's Bank Account or by cash pick – up thru Borrower's nominated cash pick – up partner. No release under the loan shall be made unless the Borrower complies and agrees with all the conditions required by SLC and the provisions of this Agreement. Borrower's receipt of the Loan, or any portion thereof, shall signify his/her agreement to all the terms and conditions of the agreement.
• Other Services
– All other services will be released to the Buyer thru their nominated account, mobile numbers and/or e-mail address. Buyer's receipt of the service confirmation, or any proof thereof, shall signify his/her agreement to all the terms and conditions of the agreement.
VII. RETURN AND REFUND (FOR PRODUCTS AVAILED ONLY) Coverage of Return Policy
Depending on the applied Return policy, items may be returned within 7 or 14 calendar days. Countdown starts after 24 hours from the date of receipt of the item.
Requirements for a valid return:
• Meets the required coverage period below.
• Completed Return Form.
• Prior to returning gadget, I will delete/remove all my personal information which includes usernames and passwords
• I will provide Bank Details if I opt for Refund via credit to bank
• I wil provide the necessary information if I opt for refund via desired remittance centers.
• Reason for Return has to be valid and return acceptance condition met
Valid Return Reasons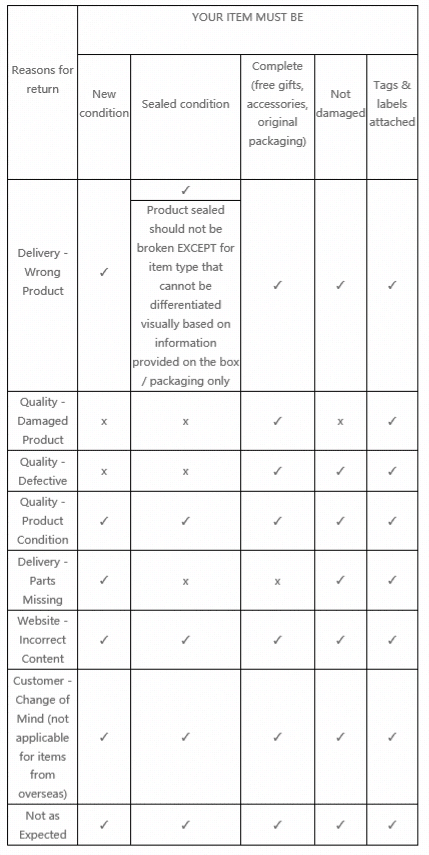 In the unlikely event that my return does not meet requirement(s), SLC's Customer Service will notify me before sending it back to me.
The item cannot be returned after 7 calendar days.
After this period, if the item is covered by a manufacturer's warranty, I will contact the manufacturer directly for assistance and return.
To enjoy a hassle-free experience when returning the Item, I will ensure that the Item, including any complimentary items such as accessories that come with the Item, must be returned to SLC in the condition received by me on delivery.
The item will be picked up once the item is reported as "FOR RETURN"
I will only be refunded after SLC has confirmed refund from its suppliers, hence SLC has the right to offer me other products as well. The refund will be made to my designated bank account or remittance center, whichever is applicable.
VIII. POSSESSION AND TRANSFER OF RISK
The risk passes to the Buyer once the Buyer or his/her duly authorized representative takes possession of the Goods. Loss of or damage to the goods will not release the Buyer from his/her obligations under the terms of this agreement.
Loss of or damage to the products or services will not release me from my obligations under the terms of this agreement.
For products availed, I shall shoulder all maintenance and repairs to the goods at my cost where necessary in order to keep it in the condition at which it was sold and any improvements to or accessories placed on the goods shall become inherent components thereof.
For products availed, I agree not to sell, dispose of or transfer the rights to the goods to another party without the prior written consent of SLC until such time as all monies have been paid under this agreement.
IX. DEFAULT
SLC reserves the right to terminate the Facility thus making the entire unpaid principal, accumulated charges, and interest due demandable in full upon the happening of any of the following events of default:
i.I default in making payment of the principal sum and/ or interest and/ or any other sums payable hereunder (whether formally demanded or not); or
ii.I default in any other term or condition herein; or I am unable to pay or suspend payment thereof or enter into composition or arrangement with my creditors or commit an act of bankruptcy or has bankruptcy petition filed against me; or
iii.In the event of my death or if I become of unsound mind; or
iv.Distress or other execution proceedings is conducted against my property whereupon the entire indebtedness shall become due and payable immediately by me to SLC.
X. DEFERRED PAYMENT AGREEMENT
For installment or deferred payment options, I hereby apply for a deferred payment facility with Streetcorner Lending Corp (SLC) and in consideration of the processing of the facility:
1.I hereby certify that the information and documents I supply, in connection with application are true and correct. Any information or document which is not true or accurate will automatically cause SLC to reject the application or cancel its approval.
2.I hereby authorize SLC to collect from me personally or through a third party my personal data and other documents, including but not limited to photos, fingerprints and/or biometric data as well as all other information I have agreed for SLC to access in downloading the Akulaku App.
3.I hereby authorize the SLC to obtain such relevant information concerning the application of the facility as it may require from other institutions or persons and from any other source as SLC may deem appropriate and hereby waive the confidentiality of any personal information obtained in the course of the verification. Without limiting the generality of the foregoing. I authorized the SLC to.
a.Verify my income, residence, business/employment and any such other pertinent, sensitive, confidential and/or personal information from disclosed employer/s, through or from any third party or any sources, online or otherwise, necessary for the SLC to arrive at a decision on the application; and
b.Conduct random verification with any institutions, such as but not limited to the credit bureau or other external parties, as well as any government agencies (i.e. SSS, GSIS, BIR, DOLE) which may supply relevant information for my application.
4.I agree that all information and documents supplied by me, or by any authorized representatives, or otherwise obtained by SLC in accordance with the foregoing shall be the property of SLC. Any such information and documents, as well as any personal or sensitive personal information that I provide SLC or which it may obtain in the course of the verifications permitted here, and may be used by the latter of any lawful purpose at its discretion, including but not limited to providing it to its agents it may retain to assist it in completing the verifications it may conduct pursuant to my application, whether the application is granted or not. Without limiting the generality of the foregoing, I authorized the SLC to.
a.Include my name and other pertinent information about me, the application and the loan in any report or disclosure to any credit bureau or institution.
b.Disclose and furnish information to third parties. Including but not limited affiliates, subsidiaries, agents, service providers any prospective assignee/s or transferee/s, and rating agencies.
5.I confirm and acknowledge that I shall hold SLC free and harmless from any liability that may arise from obtaining, transferring, disclosing or storing information and documents relating my application.
6.In case of disapproval of my application, I agree that SLC is under no obligation to disclose the particular reason/s for such disapproval
7.I authorized SLC to communicate with me via, phone call, SMS/text, In-App messaging, Social network messaging or chat, mail or any means of
a.communication to update me about the application and the loan
b.To inform me about other products of SLC and
c.For any lawful purpose.
8.I hereby consent to the recording of telephone conversations or any conversations, communications, online chat, sms, that may be recorded between myself and any employee, contract assignee, representative or agent of SLC.
The above authorizations confirmations, acknowledgements, waivers and undertakings (the "Consents'; each a "Consent') are irrevocable and may not be terminated or rescinded by me.
If any of the Consents is held to be or become illegal, invalid or unenforceable in any respect, that shall not affect or impair the legality, validity, or enforceability, of the other Consents. To the extent that a Consent would be considered legal, valid and enforceable if the same is limited or qualified, it shall be deemed to be limited or qualified without need for any further action on my part or on the part of SLC.
XI. GENERAL
Should any provision of this agreement be judged by an appropriate court of law as invalid, it shall not affect any of the remaining provisions whatsoever.
I have read, understood and agree to the above GENERAL TERMS AND CONDITIONS, AND DEFERRED PAYMENT AGREEMENT.
My personal user password which I will input to continue any application and or transaction will serve as my electronic signature signifying my acceptance of these terms, conditions and agreement.
SAMPLE TABLE OF INSTALLMENT FEES