1. Definitions and Interpretations:
The words, terms and expressions herein shall have the following meaning.
"Applicant" means the person signing the Application Form/Screen;
"Due Date" means the date stated in the communication for monthly repayments and other sums due and payable by the Applicant to Silvrr+ and, if applicable, includes payment of arrears in monthly repayments and/ or such other sums in arrears by the Applicant;
"Monthly Repayment" means the amount specified in "My Bill" which payment is payable monthly on the Due Date stated in "My Bill" subject to the terms and conditions herein;
"My Bill" means the letter of approval from Silvrr+ addressed to the Applicant in respect of the application for facility by the Applicant;
2. Customer Eligibility:
This Facility is available to all eligible Malaysian aged between 18 years old of age to 55 years old of age.
Only ONE account allowed per customer. Your Identity Card will be used as an account number.
Users are only allow to authorize ONE Facebook/Linkedin in Silvrr+ account.
Users are prohibited to create more than one account. Such act will subject to reject of application and termination of service.
To complete the opening of an Account, users will be required to provide the relevant credit, debit card details to Silvrr+.
Users expressly consent to, authorise and instruct Silvrr+ to initiate recurring debit card, credit card and/or other payment transactions in relation to purchases made in connection with user's Account.
For the avoidance of doubt, users shall be responsible for ensuring that they have sufficient funds available. As such Payment Methods are provided by other third parties, Silvrr+ accepts no liability in relation to the same. Users agree to be bound by any rules of such other third party and are responsible for all fees charged by the same.
3. Facility:
1) PAYMENT DUE DATE OF MONTHLY INSTALLMENTS:
Each Monthly Repayment shall be made on or before the Due Date. There're 3 (THREE) due dates, 7th, 17th, and 28th on every month. The due date is according to system allocation and there's no option for users to select. Silvrr+ will notify users on the due date once the credit has been successfully approved. Please do not hesitate to call our customer service if there's any question. Kindly find out the relation for due date and MyBill as per below.
| | | |
| --- | --- | --- |
| Billing Date | Purchase Tiime | Due Date |
| Currnet Month 21st 00:00 | Last Month 21st 00:00-Current Month 20th 23:59 | Next Month 7th 23:59 |
| Current Month 2nd 00:00 | Last Month 2nd 00:00-Current Month 1st 23:59 | Current Month 17th 23:59 |
| Current Month 13th 00:00 | Last Month 13th 00:00-Current Month 12th 23:59 | Current Month 28th 23;59 |
Silvrr+ will set up certain percentage of down payment for users which shall be paid by debit card or credit card of users.
Silvrr+ will start deducting the corresponding monthly payment due automatically from the Buyer's credit card/debit card account starting from the billing date stated above
2) SERVICE FEE
Service fee will be applied once order has been billed to customer and will be calculated accordingly into your monthly instalment.
3) PREPAYMENT
The Buyer may prepay the Outstanding Balance in full or prepay more than the monthly payment due before payment due dates at any time without premium or penalty.
All prepayments shall first be applied to any outstanding late installment amounts due, then to any late payment fees due and thereafter to the Outstanding Balance.
4) LATE PAYMENT FEE
Late payment charges shall apply if the installment amount/s due remain unpaid after five (5) days from due date. Late payment charges shall be computed at ten percent (10%) based on the installment amount due but shall not go beyond or exceed RM 40.00 (Forty Ringgit Only).
Any such prepayment that exceeds monthly repayment or any prepayment in parts shall be deemed to be advance payment. Such amounts of advance payment if sufficient to cover the monthly prepayment(s) will extend the schedule Due Date (Monthly Due Date) to a later date.
All payments by the Applicant to Silvrr+ shall be regarded for all purposes as payments in gross.
5) AUTORIZATION
That, pursuant to the Credit Reporting Agencies Act 2010 ("Act"), I/We the following individual/company/ business interest parties do hereby give consent to you to obtain or disclose any Credit Information (as defined in the Act) relating to me to Experian Information Services (Malaysia) Sdn. Bhd. or any source deemed appropriate to verify my/our credit history as you and Experian Information Services (Malaysia) Sdn. Bhd.or any source deemed appropriate may deem fit under any applicable law, regulation, guidelines, regulatory requirement or directive in relation to my/our credit application or transaction with you for the following purposes (but not limited to) opening of account, credit evaluation, credit review, credit monitoring, debt recovery purposes, scoring solutions, legal documentation and action consented to a contractor facility granted. Such consent shall remain applicable as long as I/We am maintaining any transaction with you. I/We understood the Privacy Policy and the CRA Policy.
Pursuant to the CRA Act and Central Bank of Malaysia Act, I/We the undersigned do hereby give my/our consent to Street Corner Ecommerce Sdn Bhd,and Experian Information Services (Malaysia) Sdn. Bhd. ("EXPERIAN"), a registered credit reporting agency under the CRA Act to conduct credit/trade check, CCRIS and DCHEQUE checks on me and where applicable, our director(s), shareholder(s)and guarantor(s)(collectively the "Parties"), at any time for as long as I/We have a trade relationship with you or where any dues remain unpaid and outstanding with you.
Apart from the above, the Parties undersigned do give our consent to you and the EXPERIAN, to process my personal data as per the CRA Act 2010 and PDP Act 2010.
Silvrr+ is a platform where by the users are able to enroll for monthly installment plans with their respective vendors in order to purchase their desired items.
6) COLLECTION FEES
In the event of default this installment sale and security agreement may be turned over for collection and the Buyer agrees to pay all reasonable legal fees, collection and enforcement charges to the extent permissible by law, in addition to other amounts due.
If instalment payment defaulted for 2 months continuously, the instalment plan will be cancelled and customer will need to make full payment.
7) SHIPPING AND DELIVERY
Silvrr+ will inform Seller when Silvrr+ receives Buyer's Purchase Monies. Seller should then make the necessary arrangements to have the purchased item delivered to Buyer and provide details such as the name of the delivery company, the tracking number, etc. to Buyers through the application.
If customer wants to cancel the order after down payment is made, a cancellation fee RM10 will be charged to customer for each order(s).
8) REFUND AND REPLACEMENT
 Coverage of Return Policy Depending on the applied Return policy, items may be returned within SEVEN calendar days (commencing from the date of receipt of the item).
If you need to refund an item, please be sure to comply with the following clauses:
a. Customers must return the original packages and the accessories. The items must not be damaged or scratched; the accessories must be complete;
b. The warranty bills must not be opened and used or filled in. Items that were maintained or repaired are not applicable to the guaranteed service of Three-Days Refund.
c. Refund process will take 7-10 Working Days and will be made to Buyer's designated bank account.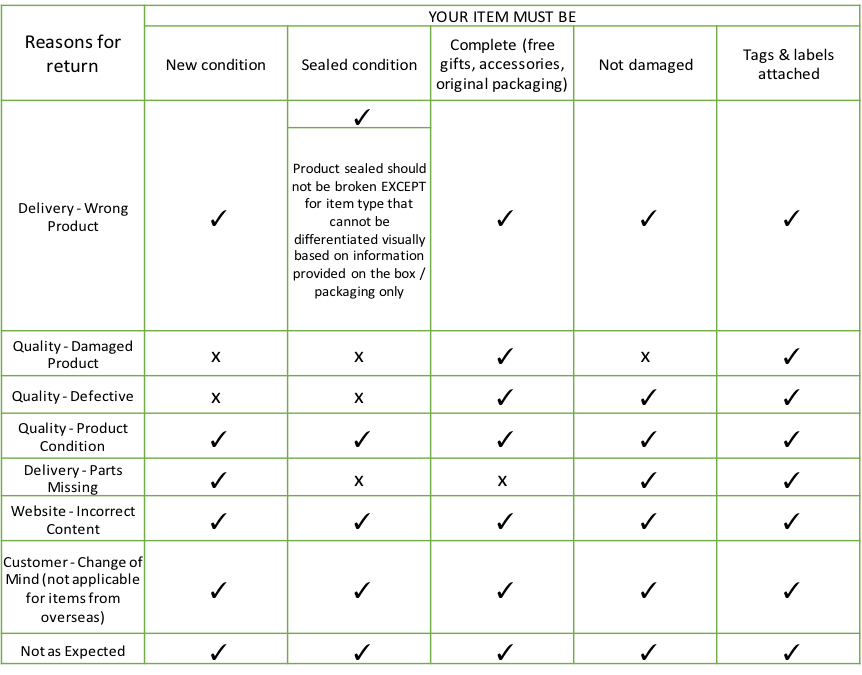 9) DISCLAIMER
The Buyer admits to having inspected the Goods to his/her satisfaction and that no guarantees or warranties were expressed or implied by the Seller or his/her agent regarding the condition, quality or fitness for any purpose of the Goods.
Silvrr+ is a marketplace where merchants who comply with Silvrr+'s policies can offer and sell certain goods within an optimized-price format. Silvrr+ is not directly involved in the transaction between buyers and sellers. Consequently, Silvrr+ is not involved in transferring the legal ownership of items from merchants to other parties. As a result, Silvrr+ has no control over the quality, safety, morality or legality of any aspect of the items listed, the truth or accuracy of the listings, the ability of sellers to sell items or the ability of buyers to pay for items.
Both the buyers and the merchants agree that Silvrr+ is a marketplace and as such is not responsible or liable for any content, for example, data, text, information, usernames, graphics, images, photographs, profiles, audio, video, items, and links posted by merchants on Silvrr+.
10) POSSESSION AND TRANSFER OF RISK
• The risk passes to the Buyer once the Buyer or his/her duly authorized representative takes possession of the Goods.
• Loss of or damage to the goods will not release the Buyer from his/her obligations under the terms of this agreement.
• The Buyer shall shoulder all maintenance and repairs to the goods at his/her cost where necessary in order to keep it in the condition at which it was sold and any improvements to or accessories placed on the goods shall become inherent components thereof.
• The Buyer agrees not to sell, dispose of or transfer the rights to the goods to another party without the prior written consent of the Seller until such time as all monies have been paid under this agreement.
11) TRANSFER
The Seller may assign this installment sale and security agreement to a third party without notice to the Buyer and the Buyer agrees to remain bound to any subsequent holder of this agreement under the terms of this agreement.
12) DEFAULT
a) Silvrr+ reserves the right to terminate the Facility by giving prior notice to the Applicant upon the happening of any of the following events of default:
• The Applicant defaults in making payment of the principal sum and/ or interest and/ or any other sums payable hereunder (whether formally demanded or not);or
• The Applicant defaults in any other term or condition herein; or
• The Applicant is unable to pay or suspends payment thereof or enters into composition or arrangement with his creditors or commits an act of bankruptcy or has bankruptcy petition filed against him; or
• The Applicant dies or becomes of unsound mind; or
• Distress or other execution proceedings is conducted against the property of the Applicant whereupon the entire indebtedness shall become due and payable immediately by the Applicant to Silvrr+.
b) Silvrr+ shall then have the right to sell the goods in any manner which he/she may deem fit and to apply the proceeds to the repayment of monies due under the agreement.
c) All default payments more than two (2) months will be assigned to third-party debt collector agencies.
13) JOINT AND SEVERAL LIABILITY
Should there be more than one signatory to this installment sale and security agreement, their obligations shall be joint and several and each specifically agree to be bound by all the provisions as set out in this agreement.
14) BUYER'S WAIVER
The Buyer waives demand and presentment for payment, notice of non-payment, off-set, protest and notice of protest and agrees to remain fully bound until all monies are paid in full.
15) GENERAL
Should any provision of this agreement be judged by an appropriate court of law as invalid, it shall not affect any of the remaining provisions whatsoever.
All services provided by STREET CORNER ECOMMERCE SDN BHD (1169406-U). I , (Name:_______________), NRIC No : ____________________have read and agree to the above Silvrr+ terms & Conditions.